Are you being called to create some space in your life this summer to move a dream forward? Is it time to create, to give yourself permission to explore what is longing to be born through your creative self? I'd like to invite you into the year's Creator's Vision Quest by Train!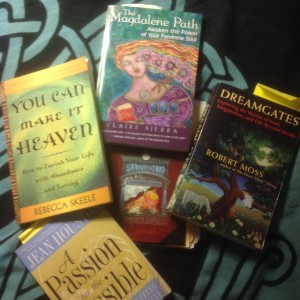 Do you remember the spell of possibility every time you connected up with track nine-and-three-quarters? It was the Hogwarts Express, and magic was afoot. This summer, step into your own magical, liminal creative space.
In summer 2014, I did a workshop for creators in transition, getting all of us started on Creating What Matters. This year, we are taking to the rails to continue and grow those dreams of creation.
On Sunday, August 2, I am leading an intrepid group of bold creators on a 25-hour creative deep dive on Amtrak's Southwest Chief, traveling from Chicago to Albuquerque.
For me, it's a long-time dream, to lead a group of dreamers, creators, truth-tellers on a train journey — an intensive immersion into dreams, creativity, and bringing forth the purposeful great work inside you. Do you feel called?
We will consider both landscape and dreamtime, though they are not separate. We'll connect with the inner child who loves adventures. We'll examine what gets in the way and how to consciously partner with blocks, obstacles, and stuckness. There will be a pre-journey playbook, time for 1-on-1 conferences about where you're stuck or where you want to take your next body of work, opening and closing ceremonies, playing the Lightning Dreamwork game, and much more.
You'll experience a spacious and regenerative deep dive into the heart of your own creations. It's a chance to jump-start your creative process and get traction on a project: new body of work, course, workshop, or book. You might even decide to shape your life and its next phase as a work of art!
Here's the invitation: Allow yourself to surrender into a creative dream world with the gentle click and motion of the train. We're adding movement to the sacred container for generating a palpable momentum, infusing your creations with new energy. 25 hours (If the train's on time…)
The investment is $225.00 for the immersive workshop (Train fare not included). Please email me at jasbjm(at)earthlink(dot)net to set up a phone conversation to see if this is the best step for you. OR text me at 773-263-7914 for more details.
A few words from your guide, Bobbye Middendorf:
I journey with sage-hearted collaborators, evolutionaries, messengers, visionaries, and change-agents as a powerful voice and advocate for the practical results they get through deep dives.
We walk together through the chaos of reinvention to co-create their evolving core messages, giving voice to the vision of their purposeful Great Work while revealing their wisdom in words they didn't know they knew.