In early 2012, I joined a course at En*Theos with Jennifer Louden called Shero's Journey. It was a powerful path to walk. This piece of writing emerged from that time.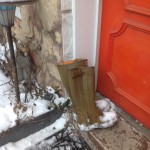 A shero journeys across the universe,
her footprints among the stars, opening realms before lunch and back to concoct a dinner for her beloveds.
Fully inhabiting all the corners of her life and befriending all her inner selves, she radiates like the heart of a star, staying grounded in her own power like the Iron Crystal Heart of Mother Earth**.
She rides the waves and nurtures the garden, cultivates the inner wisdom and shares with all on her path the vital energies of co-creation.
She unfurls Divine Love like a magic carpet at the hearth, its glow and warmth are sparks and candle flames freely shared.
Every element, at need, answers her call of pure spirit — the flow of the waters, the spark of Divine Fire, the grounded knowledge of Mother Earth, Gaia, the messages of wisdom from the animal kingdoms, the lessons of interdependence whispered by the plants and played on the wind at the top of the trees.
And grounding it all in Pure Being, growing infinity loops in a garden of grace and reweaving tender and brilliant threads with healing warp and woof on the loom of Divine Expression.
Claiming your Shero on her own heroine's quest:Â  Yes, it is true that it will not necessarily look like the Hero's Journey. That is not for you to concern yourself with. Instead, put on your boots and be willing to walk the walk … that
you are willing to  claim your true power as a Divine Co-Creatrix*.

(*with thanks to Julie Daley at UnabashedlyFemale.com

and **acknowledging Barbara Hand Clow)
Love and light dear sisters, whether you are your own heroine or your own shero, and many blessings on your journey, your quest, your path!
~Bobbye