Inner Wisdom Keeper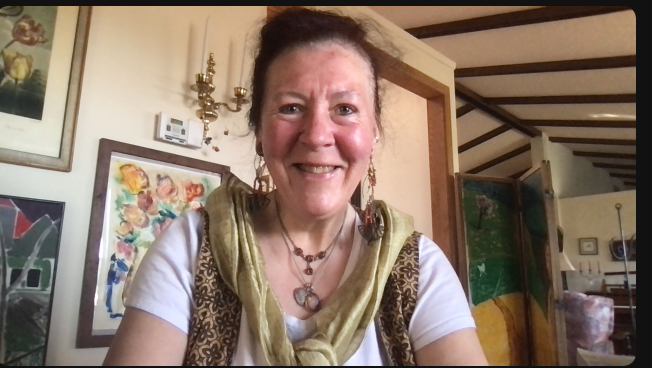 Bobbye Middendorf, MA, Inner Wisdom Keeper
WayShower for Ancient Ones, Poet, Priestess of Pure Potentiality, Dream Mentor, Yin Arising Catalyst, Spoken Word Alchemist
Bobbye Middendorf, MA, is dedicated to dreaming in new realities — where all life flourishes.
She partners with Evolutionaries resonating with her #HeartFireMagic, spoken word alchemy, & sacred medicine. Her healing, creative, & alchemical transmissions offer portals for immersing in wisdom, grace, creative sparks, & self-love.

As Inner Wisdom Keeper, she is devoted to each Beloved's blossoming from within … a magical journey available to all!

As Beacon & Word Alchemist, she delights in playing with poets, radiant edge-dwellers, goddesses, mystic witches, & creators — amplifying all these lights.
As Living Bridge between worlds, Bobbye's multidimensional work, including "Word Altar" collages + poetry, prompts playmates to remember their wisdom embodied within.
 
A WayShower for Ancient Ones, Bobbye CoCreates gatherings, dream groups, seasonal circles, pollination-projects, mixed media collages, poems, prayers, & new realities. Those called to play in her #YinArising field can open to receive & live their bigger stories — healing, evolving, creating, & growing their embodied #HeartFireMagic. Working both in-person and virtually, in small groups and 1-on-1, Bobbye and her gifts regularly bring clients into embodied experience of their own inner wisdom.
Connect at http://www.BobbyeMiddendorf.com and at
SoundCloud.
As MultiDimensional Creatrix, Bobbye's capacities extend across disciplines, and that is, in fact, her artistic lineage.
A recent exhibit (August 2022) at the New Mexico Art League prompted the following Interdisciplinary Artist bio, below:
Bobbye Middendorf, MA
A Beacon & Alchemist dreaming in a new reality where all life flourishes.
+ BobbyeMiddendorf.com + SoundCloud.com/bobbyemid + Placitas, NM
Vision: Reverence & devotion in all I do. Through my Presence & work, all life flourishes.
Word Altars are Living Bridges created in service to dreaming in this new reality where all life flourishes—starting from INSIDE. This inner-sourced journey is available to all. Think of the Word Altar as a prompt, a reminder of wisdom already present within. Or consider it as living meditation to immerse viewers in their own flows of wisdom, grace, and deeper understanding.
Bridging visual, written and spoken word, and ceremonial magics, the Word Altar opens portals for inquiry and explorations between inner and outer space. It weaves new levels of engaged coherence where aesthetic and spiritual dance together with elegance and grace.
Labyrinth Word Altar, from my "Word Altars" series, encompasses:
visual (mixed media collage);
word (poetry, incorporated into collage, and full original poem on rag paper tucked in);
spoken word alchemy: Labyrinth poem's audio —
 https://soundcloud.com/bobbyemid/labyrinthwordaltar4-12-2020
& "sacred ceremony," as Word Altars make their way into my sacred circle gatherings.
Background: I carry countless lineages in my multidimensional medicine satchel of gifts; Interdisciplinary Artist is but one. At Columbia College Chicago, I created poetry, photography, mixed media collage, and conducted my first sacred art ceremony. This work weaves visual, poetic, and spoken word alchemy in immersive mystic-magic, crystallized by New Mexico.
2021
Compass Roses Project: purchased by Albuquerque Public Art CommissionGroup exhibit highlighted unique visions of ABQ in local artists' inspired maps.
My piece in this collection is Cartography of the Heart: Reclaiming Our Sacred Interconnection. This visual mixed media collage map highlights 7 nature-connected sites and links to spoken word alchemy (meditations and poetry) inspired by each site.Related Exhibits
South Broadway Cultural Center Gallery; (April-May 2021);
City of Albuquerque Public Art Collection
"Compass Roses" Exhibit: Online at https://compassroses.art/albuquerque-nm/
2017-Present
Placitas Community Library (various themed exhibits)
Older exhibits — Chicago, IL
The May Street Gallery, Chicago, IL 2003
Chicago Neighborhood Artists 1993
Hokin Center Gallery, Columbia College Chicago 1989-90
MA Interdisciplinary Arts, Columbia College Chicago 1990
Because I am the center of my work, and both of us are dancing on the Evolutionary Arc, there are many iterations of my gifts, blessings, and capacities… If you'd like, you can read an earlier iteration of me here at my Facebook business-community page:
https://www.facebook.com/notes/write-synergies-circle/yinarising-is-rising-about-bobbye/1683867021666365/