Befriending the Unknown:
Part 2–Deepening Journey to Tend Your Inner Garden
WayMakers— Our Second Wave Beckons.
After August and September with our WayMaker Initiation Circle, October was a potent period in which to integrate all that we'd practiced and worked on during late summer.
During that time, several of you joined me for a series of Sacred Space-Holding sessions during a particularly intense time. Our Intent lived as carryover from WayMaker practices — Co-creating a reality where all life flourishes.
This continues as the "bottom line" or what I call the meta-intent, for all that I'm doing to move forward in my Yin Arising body of work.
What is this second wave?
During the Samhain Seasonal Sacred Circle, I received the latest iteration: Befriending the Unknown: Deepening Journey to Tend Your Inner Garden
Currently, it's designed to run from approximately Mid Nov. – Mid Feb., gathering approximately every 10-14 days, through the holidays that aren't going to be like any we've experienced before.
From here (the inner garden), our new realities germinate, or so I've been told. 😉
What we will explore together is co-creating and amplifying the field of sacred resonance that is already present (and growing). Our tapping this resonance field and living it, IS the living birth-process of new reality emerging. Through us. As us.
We started at the Samhain Seasonal Sacred Circle, stirring and nourishing roots in the dark, as we move through the last octuple of the year into Winter Solstice, return of the light.
We are each called to play our unique part in this unfolding. There are very few places where you receive the strength of a field of sacred-holding and support to #InquireWithin and #ApprenticeToYourOwnInnerWisdom … amidst a community of radiantly open-hearted beings. This is your unique journey. I support us all. In holding the fluid container, I evoke spaciousness so we can all pour our creative flows through and into the cauldron. What emerges IS the new reality sourced from within each one.
A reminder of the credo from the WayMaker invitation:
WayMakers
Travel light, and BE the light that encompasses all.
Be the calm center, and allow storms to play out as they will.
Travel together, in the unifying direction of through.
Travel far, though you journey not.
Claim the vessel of your being
From whence new reality springs.
Grow the secret garden
From whence new reality emerges.
(With the addition, this time, of the final 2 lines.)
Yes, we each have our unique songs and expressions to bring into our inner secret sacred gardens. We grow, each one, a unique expression of living garden. AND, the greater field, Infinite Mother's meta-garden, is already present. What has been "missing," so to speak, has been US, as we awaken to this as a delicious potentiality within our horizon.
So yes, in one sense, we are co-creating and holding the template and space for this new reality to be co-created and birthed through us as participants.
And at the same time, we are called to birth ourselves into IT, the already-living field of the Mother. #BothAnd
This remains experimental, just as WayMaker Initiation Circle was. However, this time, I have been guided to share a rough map (outline) of our content for deepening into this garden-tending-journey.
Map for OUR Inner Garden-Tending Journey
Cultivate Your Intent—for the inner-tending-journey
Navigate by Nature—Discovering your unique way of deepening into your sacred inner garden space
Attune to Your Field of Hope and Blessing—Aligning with the greater container for amplifying your song of self
Evoke & Invoke Your Garden and Allies—Connecting with the 5 elements, your inner family members, allies, ancestors, angels, and … ?
Immerse in WayMaker Practices—deepening your roots and presence; Magnifying your garden's growth; Gathering, refining, remembering to USE what is in your Medicine Satchel!
Leverage Your Enoughness—Having Enough, Being Enough, and Miraculous Leveraging from that wholeness ever-present
At the Core of Creation—You and your Garden as locus for the emerging new reality
The journey is dynamic, so we will experience it in the moment and trust where it takes us. Thus, we continue with the second wave of the WayMaker Journey, Befriending the Unknown: Deepening Journey to Tend Your Inner Garden.
Tending and deepening into the sacred garden within, and within the greater field of Infinite Mother, we continually refine and strengthen practices, creations, processes, and self from inside-out, thus expanding in self-trust. Your questions, concerns, and current challenges are also welcome. We witness, inquire, and lighten burdens through clearing and other inquiry and releasing practices.
This engagement of approximately 3 months offers a fluid, experimental structure, and it's yours to lean into — just as far as you choose.
Are you called to engage?
Read carefully, tune in, and inquire within. If, as you review this invitation, you sense something calling you into deepening, then consider these particulars for engaging in Part 2 of the journey, Beloved WayMaker!
What I know now: this looks to be at least 8 sessions spaced approximately every 10 days to 2 weeks, including the 2 seasonal circles. WayMakers receive the Winter Solstice gathering, with the return of the light; and Imbolc, in early February, celebrating the earliest signs of spring. Another likelihood, now tickling my awareness, is mini-virtual retreat, probably in early December.
Gatherings may include: Centering/grounding experiences; Promptings for inquiring within and connecting to inner wisdom, Deep listening sessions; QA sessions; Sharing-Our-Practices sessions; and more to be revealed…
… which now includes additional Co-Working Sessions where we amplify our commitment to create/make/develop by doing it in a shared Zoom space.
You will receive a healing circle at least weekly via Belvaspata and other healing-wholeness-space-holding sessions (currently planned as offline, but could be done live); plus daily Belvaspata angelic-wholeness maintenance sessions that continue for 6 months after completion of this circle. Your specific intentions are welcome to be placed into the circle for the radiant-heart-wholeness sessions.
Recordings. Check.
Prompts. Check.
Space-time to engage and share — if you want to. Check.
Private Facebook space. Check.
Dates, days, times to be determined in consultation with those who choose to participate; jointly agreed on and possibly switched up, depending on global time zones of participants.
We are each co-creating our own unique reality. We practice this reality co-creation together throughout this part 2, deepening journey — and beyond.
As convener and circle-holder, I point out possibilities and perspectives from my own experience. You are invited to share yours.
I hold the initial vision, its Vessel + Sacred Circle, and our field of shared intent. You get to experience depths within and nuances of shaping (holding) your own reality and cultivating your garden— in your own unique way — while receiving support in our shared container.
I share practices both in real time sessions and asynchronously. With the latter, you are invited to receive the potency into your own field in your most perfect timing. There are also opportunities for you to share and refine your most potent practices, perceptions, and understandings.
I am holding the sacred circle with support from various realms and modalities so that you can relax and receive as fully as you are willing. Simultaneously, you are learning and refining your own circle-holding capacities.
We connect within to inspired WayMaker practices to build the muscles of self-trust. You may have, in your own medicine satchel, practices that serve you well already. We gather, share, refine, and strengthen together during these unfathomable times.
Tend your garden through the dark of the year and into the turn into the light. Your sacred exchange for this experimental program is $180, or $60 per month, payable via PayPal. (If there is another sacred exchange you would like to propose, please contact me directly. If you need to pay monthly, please let me know. We can work that out.)

Https://www.PayPal.me/BobbyeMiddendorf/180
Play-Full Co-Creation
Nurturing Your Life Force
Amplifying Your Song of Self
Joyous emergence

My devoted commitment to you.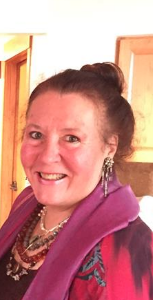 About Bobbye
Bobbye Middendorf, MA, is Spoken Word Alchemist, Yin Arising mentor, mystic & catalyst for evolutionaries, WayMaker for WayMakers, inner wisdom guide, and award-winning wordsmith and healer. She created The Self-Presencing Experience as process-and-practices for visionaries and conscious creators to embody their own wholeness, unique fields of potentiality, and amplified song-of-self. Finding and activating this evolutionary edge, they can embody hope, self-grounding, self-trust, resilience, and joy. Their regenerativity blossoms with clarity, with expansive expression making life a work of art.
Bobbye "… has an unusual ability to hold space by carefully tending to the creation of a safe and deep container, through the patience and holding of her deep listening and through her caring wisdom. The result is that one sees oneself and one's situation more clearly, more fully, and with more compassion."

MD, Ontario