Solstice Gift Thank You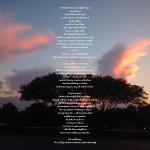 Thank you for saying yes to your sacred and sovereign self! You are invited into the Waterfall of Divine Virtues, accessible anytime and anywhere. This is a collection for you, gifts to give you back to yourself.
Here is the PDF containing your gift. Just click the link to download the PDF with links to listen to your meditation and poem.
To learn and connect with more ways to shine your light in words, connect with your deep sacred center of emergence, and bring forth your gifts and messages, please contact me at jasbjm (at) earthlink (dot) net.
Love and blessings,
This is Bobbye, the Poet and Priestess of Pure Potentiality